by Insp. David Lowe, CBRN Training and Development Manager, UK Police National CBRN Centre, UK
The dignified recovery of people killed in terrorist attacks is paramount to the ever-lasting legacy placed upon those family and friends of the deceased left behind. Recovery conducted in an intrinsically secure forensic manner will also increase conviction opportunities against those responsible. The needs of next of kin versus forensic management versus legal requirements is a tricky balance to achieve.

Recovery in CBRN environments of those victims who may still be contaminated, combined with the potential forensic and pathological requirements that may ensue, presents additional unique operational challenges.
The UK has always maintained a capability for managing contaminated fatalities and has learnt many lessons over years of response, not least with the recent management of the Salisbury Novichok incidents. The management of fatalities exposed to and contaminated by a highly sophisticated nerve agent presented unprecedented challenges. The means to detect and identify the potential contaminant, PPE options to achieve recovery, forensic and pathology tasks. How to conduct pathology procedures against such a threat all needed rapid and innovative development.
The issue of contaminated facilities
But there are also many cases of industrial hazardous materials accidents, chemical exposures, suicides and other incidents that lead to frequent incidents of contaminated fatalities management. Therefore, there has and will always be a desire to enhance the capability and provide responders who perform this function with the best training and equipment available against all forms of contaminated fatality threat.
Experience has shown that each and every contaminated fatality incident has unique factors meaning that a rigid pre-determined plan will never work on every occasion. What was required was a system that could be adapted and overlaid on every unique incident tailoring the response required according to that specific incidents needs.
In 2011 the UK created a new contaminated fatalities course in a collaboration between UK Disaster Victim Identification (UK DVI), the UK Counter Terrorism Forensic Management Team (UK FMT) and the UK CBRN Centre, drawing on the expertise of each to provide the most up to date and relevant course. The training also benefits from government support and planning from the Home Office, linked with pathology and coronal legal processes, providingan end to end process of victim retrieval, identification and final disposition intrinsically coordinated.
The UK Counter Terrorism (CT) Forensic Management Team, with its excellent reputation in CT scene examination based on years of experience in UK and international deployments, focusing on the high standards of investigation, identification and evidential process required. UK DVI, the national coordination body for DVI response, and the College of Policing which is the national training development body. Organizations that have many decades of UK and international experience to draw on, from deployments for 'conventional' mass fatality incidents.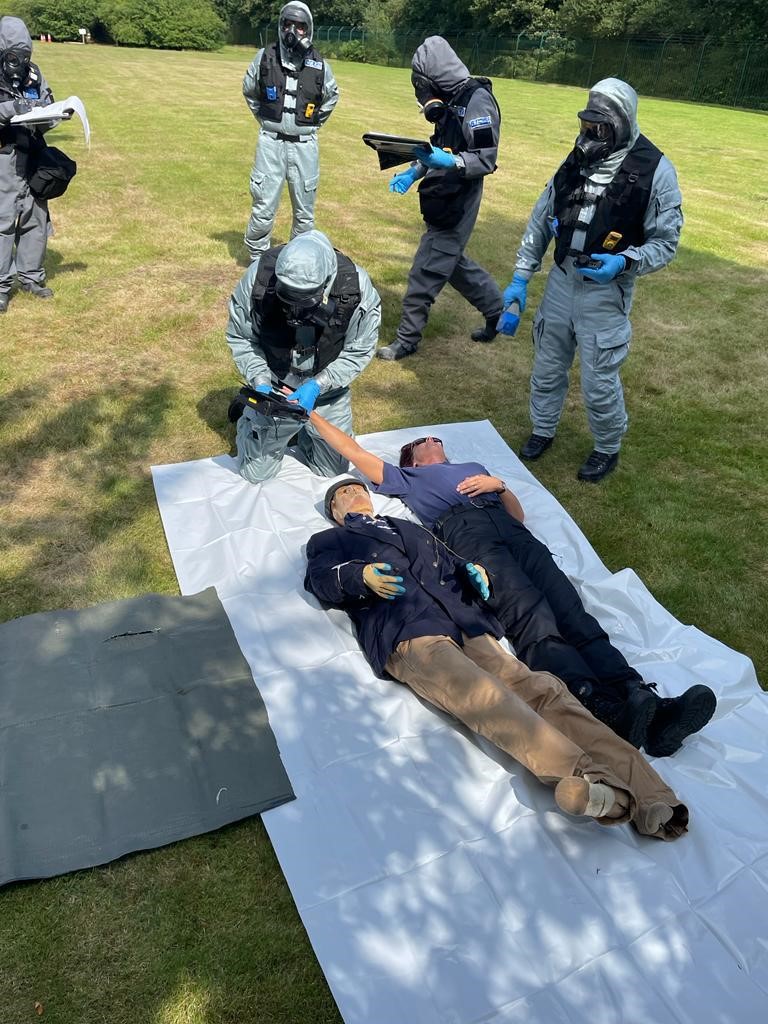 Tailoring operational procedures to the nature of threats
The UK CBRN Centre, the national coordination center for training civil emergency services for CBRN incidents, who provide oversight of safe work systems, utilizing PPE, detection, identification and monitoring, and safe extraction from scene.
The UK Homeland Security Group with strategic oversight of capability, funding and links to pathology and coronial process.
The ongoing challenge has been to ensure that the course content is relevant, practical and safe. It has been important to fully understand all aspects of what's required to manage contaminated fatalities. This includes the impact on next of kin, the coroner's legal requirements, needs of the investigation, the forensic thresholds of identification and the adaptability of the capability to manage a wide array of contamination threats.
The approach of contaminated fatality management within the UK is designed to be both flexible in terms of the number of fatalities that may require management and also the type of contamination to which they may have been exposed. With such a varied range of contamination threats it is vital to ensure that our capability remains adaptable to meet any threat, be that chem, bio or rad.
The training provided ensures that those conducting this function are aware of the generic characteristics and effects of chem, bio and rad to ensure safe working systems are adopted. Such teams will always be supported with scientific and technical advice, bespoke to each operation.
With CBRN and hazmat training, operators must get used to the heat burden/respiratory protection of the equipment required for the hazards, and take into consideration the physical strains put on the PPE from prolonged periods of wear, abrasion from activity and forces exerted on the kit (kneeling is a pre-requisite for some DVI). All PPE provided to this capability has undergone rigorous degradation testing in the field to ensure managers are aware of the physical effects and limitations on wear.
Through recent operations it has become abundantly clear in the UK that, in order to limit the risks of ongoing contamination exposure, it was imperative that as much of the forensic and identification procedure as possible should take place within the scene of the incident itself. This meant a review and adaptation of contaminated fatalities management procedures and a review of the type and array of equipment and personnel required in scene.
Such procedures needed to be flexible enough to ensure that whatever the type of contamination and number of fatalities, systems could be adapted to the situation, scaling up or down as needs dictated. It was also recognised that not all fatalities recovered would require post-mortem process and that this would be dictated to only those that were necessary.
Recent training efforts have specifically focussed on the recovery and in-scene forensic elements of contaminated fatalities management. Ensuring that recovery teams are proficient in their PPE, use of detection and identification equipment and recovery process. Our experience has inevitably shown time and again that rigorous pre-deployment planning is essential. The more teams understood their mission requirement, being effectively briefed and planning all the equipment requirements prior to deployment, the more effective they were in scene.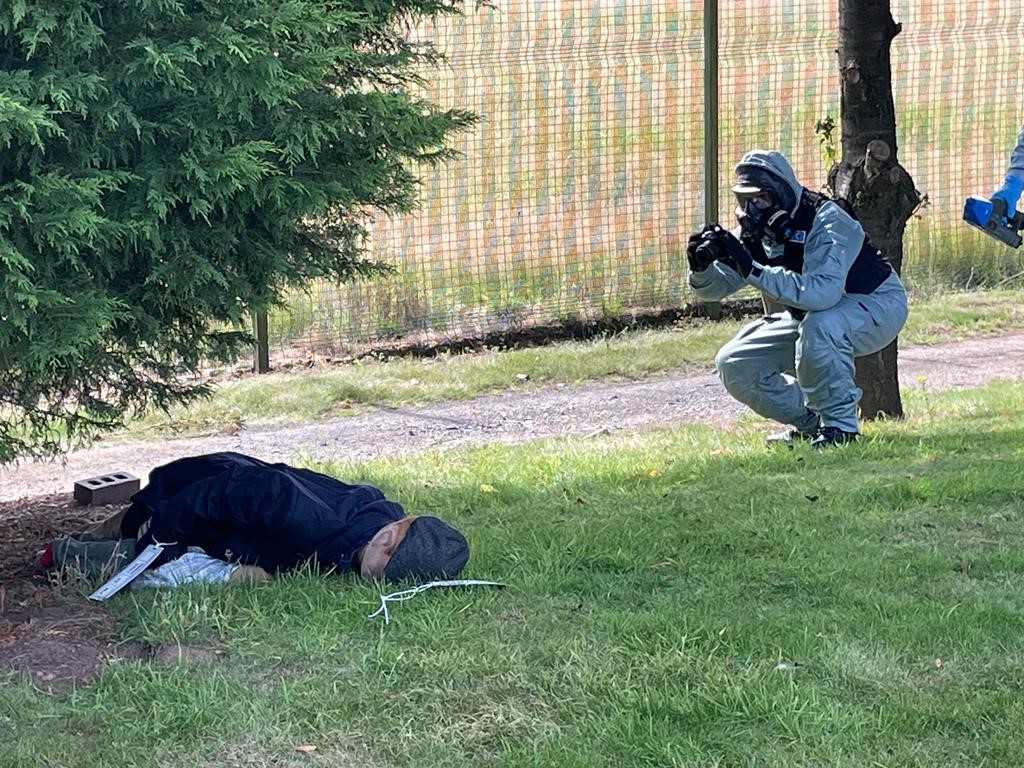 The importance of the pathology process
We are now launching upgraded training packages for pathologists and anatomical pathology technicians. This will include not only include PPE training, safe systems of work in contaminated environments but also hands on dissection-based anatomy learning in simulated contaminated environments.
The protracted periods of working time placed upon the pathology process, combined with intrinsic close contact work near contaminants and multiple PPE puncture risks presents even greater requirement to emphasise the importance of safe systems of work in such conditions. The role of safety monitoring and rigorous rehearsed procedure oversight is essential.
The UK is developing its training alongside pathology specialists to ensure their core function can be achieved as safely as possible against such challenges.
It is important to finally recognise that in order to ensure a fully comprehensive and effective process of management of contaminated fatalities it is imperative that all elements of the process are intrinsically linked. Therefore, the training and development process combines multiple disciplines working alongside each other, knowing the part each unit plays and how they interlink. Pathologists, forensic specialists, and recovery officers working side by side.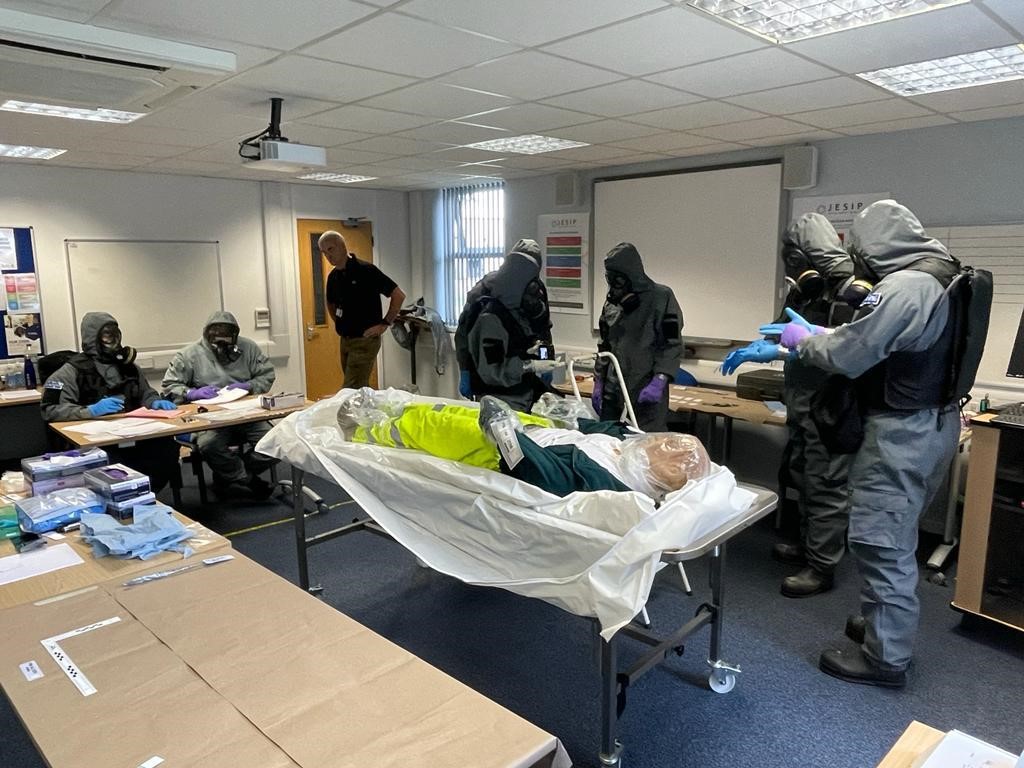 Even though the UK has had contaminated fatality training for some time, other countries have also undertaken such training, and are a source of expertise and modelling for procedures and practices. The UK has close ties with international partners and always seeks best practice. As appropriate we have consulted partners on their approach to managing contaminated fatalities and ensured that UK training is topical and cognisant of international developments. Likewise, the UK has long-shared its practices in this area with international partners and worked alongside many of them on live international deployment.
We also seek to work with industry partners on innovative detection and monitoring capabilities, forensic and pathological tools bespoke to this specific area of response.
Author: Bio
Inspector David Lowe is currently employed as the Training and Development Manager for the UK in Counter Terrorism against Chemical, Biological, Radiological and Nuclear (CBRN) threat, he leads a multi-agency team and coordinates partner agencies, including specialist scientific support, to develop training and doctrine against CBRN threat to the UK for all emergency services. He provides assurance to the Office for Security & Counter Terrorism within the Home Office that the UK is in a state of preparedness against identified and emerging threats. In 2016, as programme manager, he launched the Next Generation CBRN PPE projects to replace all front line CBRN PPE for UK Emergency Services, with the next bespoke ensemble launched for UK Police Counter Terrorism Units in 2020. For the past 4 years, as training and development manager, David reviewed all CBRN training delivered to UK emergency responders and developed joint CBRN command doctrine, including interactive CBRN command applications and commanders guides for 'use in the field'. Training over 1000 delegates per year, including commanders from all UK emergency services and overseas, his team maintain satisfaction rates for delivery and quality of content of over 95%.