CPT Rafael A. Polo, Commander, 55th Ordnance Company, US Army, USA
CPT Rafael A. Polo, the Commander of the 55th Ordnance Unit chose the EOD branch of the military because its ever-evolving and volatile nature provide a challenging-yet rewarding line of work with continuous learning opportunities.

The 55th Ordnance is not deployable, because it happens to be the only one of its kind in the continental U.S.A. Its primary function is to protect the President of The United States, vice-president as well as any other dignitaries within the National Capital Region. A recent example of this would be providing a few teams for security purposes during President Joe Biden's inauguration proceedings, on Wednesday, 20 January 2021. Although the 55th Ordnance tends to focus on the Capital Region, they also respond regionally, namely Delaware, Maryland, New Jersey, Pennsylvania and Virginia.
As with any other volatile field of work, information sharing and cooperation are paramount to any successful operation: Other key component is multifaceted and innovative training, e.g., in order to provide the team with more focused practical training CPT Polo together with CPT Tevin Radford, the Commander of 212th Military Police Detachment and Staff SGT David Wooldridge, 55th Ordnance EOD, devised a multilateral scenario involving a random vehicle check, a suspicious driver and a potential explosive device which would call on the expertise of CPT Polo's unit (as first reported by Paul Lara 2021, in BELVOIR Eagle). The military often uses tabletop exercises and war games, i.e., worst-case-scenarios, as tools for training their personnel. Tabletop exercises (sometimes the only option during this pandemic), based on theory and strategy, although necessary, do not arguably offer the same experience as the more practical on the ground trainings.
Since the job is technical and demands high accuracy, leaving no room for error, the team has to be comprised of the right people. Furthermore, in the EOD field the team leader is the one who executes, meaning that the rest of the team is there to support him or her. The Team leader takes a significant amount of risk, but training allows the team leader to properly execute during every mission. EOD is a fast-paced, constantly evolving and notorious for rapid changes kind-a-field. In order to combat these ordeals, one needs to be able to make long-term projections of upcoming "trends" i.e., threats and risks, adapt trainings and find new solutions in order to stay ahead of the curve.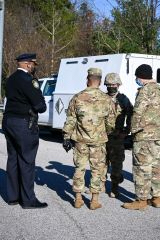 Introduction of the 55th Ordnance Company (EOD)
The 55TH OD CO (EOD) is a tenant unit at Fort Belvoir, Virginia. The company is made up of the response section, operations section, and company headquarters. The company is comprised of enlisted personnel, ranging from E-3 to E-8 along with an operations lieutenant and a company commander.
Duties and challenges encountered
The 55TH OD CO (EOD) is charged with conducting Very Important Person Protection Support Activity (VIPPSA) missions within the National Capital Region (NCR) for the protection of the President, Vice-President, their families and foreign and domestic dignitaries. The company is also tasked with Defense Support to Civil Authorities (DSCA) for the protection of personnel and property. At times the operational tempo of the company can be considerably high, incorporating time off when the workload does not allow for it can be challenging at times, but we make it happen.
Most Challenging Incident
Every incident that my teams respond to have their own unique set of circumstances and difficulties, we have our protocols and SOPs that we follow. Our standard guidelines that we adhere to allow us to always work within the scope of our training. Also, within the National Capital Region (NCR) there are many organizations that are always willing to assist us regardless the type of incident, location or circumstance. All the bomb squads within the NCR know each other and regularly work together.
Anticipate Emerging Risks and Challenges
The 55TH is regularly training and taking part in Joint Exercises. We have conducted training with the Department of Homeland Security (DHS), Military Police (MP) canine units and other law enforcement agencies. Integration and knowledge sharing in conjunction with training allows us to be regularly updated on new devices, TTPs or threats that exist.
A "Good Team Member"
Once a new EOD graduate arrives at their first unit, they are quickly paired up with a more senior NCO for mentorship and guidance. In EOD School you are taught to think quick and remember as much as possible at first glance, this type of training makes an excellent team member not only for the 55TH, but for any other EOD unit.
Shortfalls in Current training Approach
Of course every program or curriculum can always be better. The reality is that time is a luxury that we all would love to have plenty of. As EOD technicians we train regularly on the fundamentals and also focus on scenario-based exercises that simulate potential missions in the near future. Since we cannot train on everything we have to prioritize and focus on what we know is more relevant within our AO.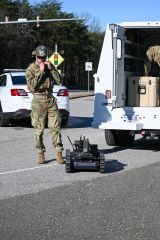 About the Author
In January 2011, CPT Polo enlisted in the U.S Army. He attended Basic Training at Fort Jackson, SC and graduated NAVSCOLEOD in March of 2012. CPT Polo's first duty station was Fort Polk, LA under the 705TH OD CO (EOD), there he worked as a team member and as an EOD team leader. In 2015 CPT Polo commissioned as an Ordnance Officer out of OCS and proceeded to Fort Hood, TX under the 79TH OD BN (EOD). CPT Polo was a platoon leader at the now deactivated 47TH OD CO (EOD), the 797TH OD CO (EOD), and also served as the Assistant S3 under the Headquarters Detachment. CPT Polo is currently the Company Commander of the 55TH OD CO (EOD) out of Fort Belvoir, VA. CPT Polo has two combat deployments all within CENTCOM AO.