By Metrohm
Securing dangerous sites is the ultimate goal in any sensitive site exploitation (SSE) directive. SSE missions include three main components: enter the site, assess the environment, and collect and identify materials.
Military personnel, first responders, and Hazmat specialists must be prepared to find anything while working: chemical warfare agents, toxic chemicals, narcotics, or even improvised explosives. They require tools that inform and protect them from the many hazards they encounter in the field. Metrohm has the ultimate solution to support these missions and identify threats—IBEX. IBEX is a quadrupedal robot equipped with a standoff Raman spectrometer (MIRA XTR DS) for chemical identification and a suite of other environmental sensors to assess the site. This remote-operated robot can safely perform preliminary reconnaissance – scan an environment, identify materials, and report back on specific conditions. IBEX increases mission readiness by removing the human element from unknown and potentially lethal hazards.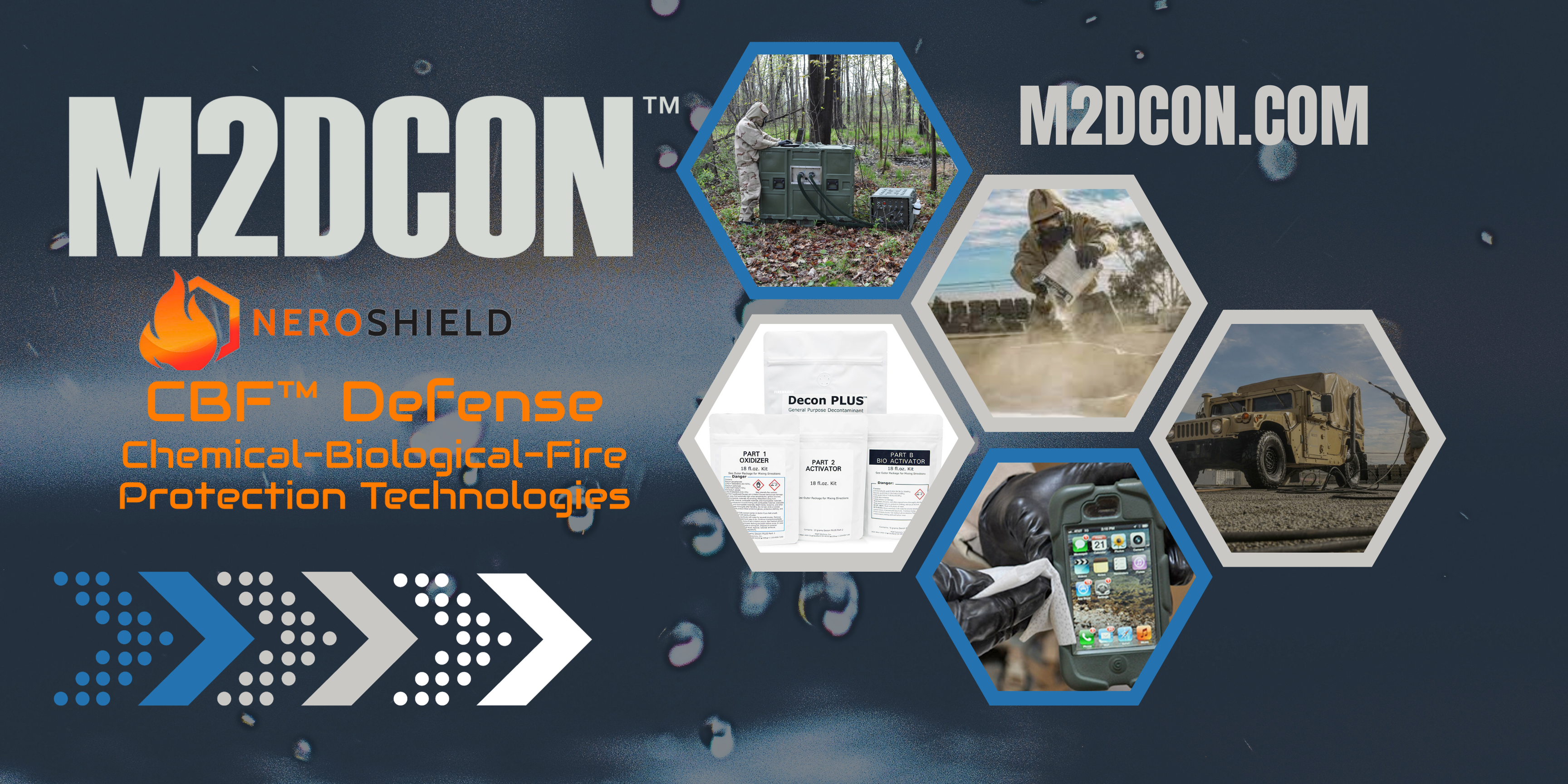 Material ID with Raman
Raman spectroscopy is an analytical technique that can distinguish between thousands of potentially deadly substances with simple point-and-shoot operation. MIRA (Metrohm Instant Raman Analyzer) retrieves data from potentially hazardous samples with through-container and standoff investigations, direct immersion testing, and remote and delayed acquisition. Most critically, Raman analysis gives real-time results for improved response. It is fast, accurate, and requires no contact for material identification. MIRA, a handheld Raman device, retrieves data from potentially hazardous samples, ©Metrohm
MIRA XTR DS combines all of these qualities in a rugged, compact form factor. In the face of emerging danger, MIRA can identify potential threats and help a team understand, plan, and execute their core objectives.
First responders, either human or robotic, can safely and quickly identify suspicious substances without risking exposure. The Long Working Distance Attachment on MIRA XTR DS will scan through most transparent/translucent materials, while the PowerPack gives users the freedom of hours of working time in the field.
Comprehensive libraries for accurate ID of unknowns
Accurate material identification with Raman spectroscopy begins with high-quality spectral library data. Raman provides instant analysis of unknown materials, but it is especially useful for identification of illicit materials. Large, targeted libraries are essential for accurate results in critical situations. Raman experts at Metrohm have created a comprehensive, current, high-resolution library with the same instruments used for both laboratory and field analysis. A DEA license permits the creation of narcotics mixtures for direct measurement in order to provide the best reference data. As new threats emerge, Metrohm can quickly respond with library updates.
The Metrohm Illicit and General Chemicals Library is one of the most comprehensive spectral databases available on the market. With this library, users can quickly and easily identify more than 2,500 substances, including illicit drugs, explosives, precursors, and other hazardous chemicals. It includes:
Fentanyl analogs
Novel psychoactive substances (NPS) such as hallucinogens or stimulants
Illicit substances such as cathionones (bath salts) or synthetic cannabinoids
Narcotics
Prescription drugs
Over-the-counter (OTC) drugs
Common materials and precursors for accurate ID of mixed samples
The Metrohm Illicit and General Chemicals Library is fully integrated into device operation procedures to ensure a user-friendly experience. As it is regularly updated, this guarantees comprehensive coverage for law enforcement, border control, and other organizations. Other Raman libraries are also available for MIRA XTR DS which include chemical warfare agents and explosive substances, complementing the Metrohm Illicit and General Chemicals Library.
Additionally, when paired with the KnowItAll® Raman Spectral Library (Handheld) from Wiley, MIRA XTR DS combines sensitive material identification with the largest libraries available on any handheld Raman system. The KnowItAll® Raman Spectral Library includes over 19,500 entries in the following categories:
Controlled and prescription substances
Flavors and fragrances
Nutraceuticals
Inorganics and organometallics
Organic chemicals
Polymers, monomers, and processing
Promoting safety with standoff Raman
Exposure to narcotic, toxic, radiological, nuclear, or explosive (CBRNE) materials can be fatal. Identifying these threats from a safe distance protects lives and using IBEX eliminates the need for human exposure.
Standoff sampling can identify materials in containers from up to two meters away. Remote control of the robot using a military-grade secure connection means that it can be deployed instead of human personnel, and identification measurements can be made by a nearby operator. Standoff Raman has many benefits. It can:
reduce exposure to potentially fatal situations
collect forensic evidence from crime scenes without any disturbance
survey potentially explosive materials from a distance
Easily identify materials with Autofocus Standoff (AFSO)
Military personnel, first responders, and other Hazmat professionals specialize in site reconnaissance, but they may not be experts at material ID. The ideal SSE tools enable any operator to make complicated analyses quickly and easily. Automation and guided workflows take the guesswork out of sample interrogation—critical, especially when every second counts.
AFSO is specifically designed as a «Ready! Aim! Fire!» standoff Raman system. An operator targets a material with the laser sight, AFSO prepares the system for standoff sampling, then the operator arms MIRA's laser, takes a measurement of the sample, and identifies it.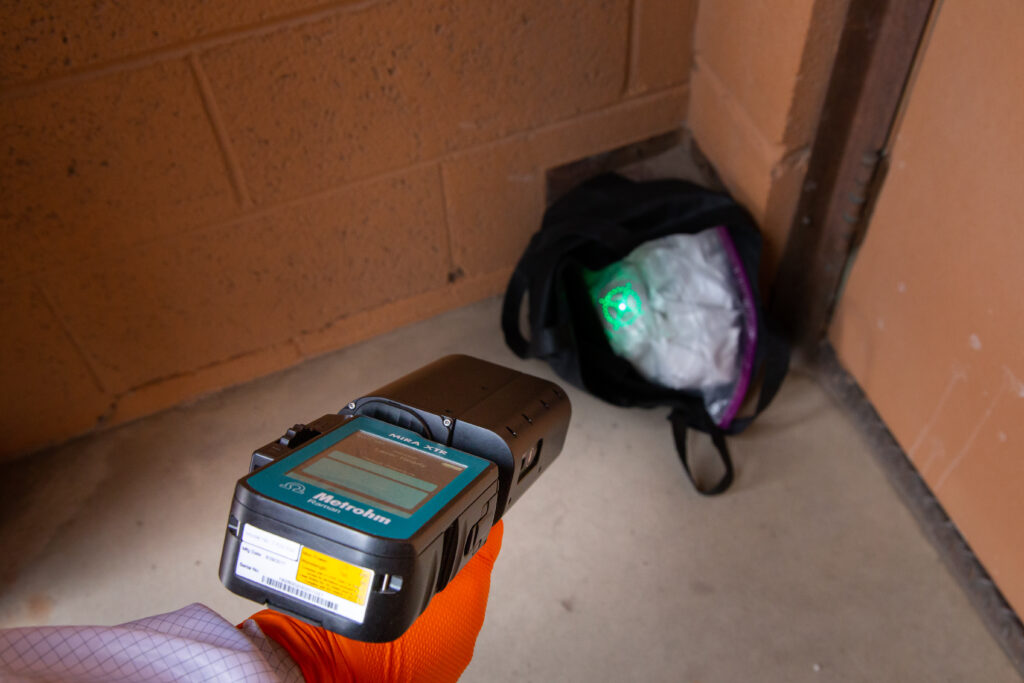 Standoff identification of CBRNE materials can protect lives and eliminate the need for human exposure, ©Metrohm
Simple. Fast. Accurate. 
First responders can identify materials through their packaging from up to two meters away with AFSO. This MIRA attachment automatically focuses on the subject, resulting in optimal accuracy at a distance. IBEX quadrupedal site reconnaissance robot with MIRA XTR DS and AFSO attachment, ©Metrohm
Autofocus Standoff applications
MIRA XTR DS and AFSO have many potential configurations depending on the scenario:
simple handheld usage for instant results without any bulky equipment
pistol-grip operation for situations requiring a more secure handhold
tripod mounting improves laser aim, reducing human error, especially when stakes are high
robot integration (with or without environmental sensors) provides top level security for potentially deadly situations
Robot integration with MIRA XTR DS and AFSO
IBEX brings everything together for ultimate SSE capabilities—it combines automated Raman technology and chemical and radiological sensors into an intuitive platform capable of qualifying and quantifying CBRNE threats. Integrating MIRA XTR DS, AFSO, and a suite of environmental sensors on a robot results in a compelling, powerful tool that increases a team's ability to execute site exploration with utter precision and safety. Under remote operation, a robot can access the scene, assess potential threats, and gather samples without ever putting a human in the way of danger. The IBEX robot is remotely operated and can access the scene, assess potential threats and gather samples, ©Metrohm
IBEX harnesses the superior maneuverability of the Spot® robot from Boston Dynamics for effective site reconnaissance. This quadrupedal robot easily maneuvers over unstable terrain and obstacles. Imagery of the hot zone is sent to the operator within seconds of acquisition, and easy to interpret sensor readings clearly warn of dangerous threats. With a flexible arm, IBEX can open doors, move objects out of the way and collect samples from the hot zone. Whether removing samples as evidence or to ensure safety, IBEX is always ready and mission capable.
The most powerful capability of IBEX is chemical identification. With standoff Raman technology and remote-control capabilities, the integrated robot system can perform safe, remote chemical identification even kilometers away from the team's location. With the Metrohm Illicit and General Chemicals Library, IBEX can find and identify tens of thousands of compounds from up to two meters away and transmit instant risk assessment of hot zones to the operator. The sensor pack includes combustible gas, radiation, and chemical warfare agent (CWA) detectors, plus an MPU5 Radio for data, video, and voice communication, and a fully integrated Android™ computer. This type of integrated system can make a full scene assessment quickly and safely to help a team understand and mitigate threats from a distance.
Manage the deadliest of threats without putting lives at risk
IBEX is the ultimate solution for reconnaissance and safe site inspection, utilizing a quadrupedal robot, CBRNE sensors, highly secure long-range radio communications, a high-quality rugged Raman instrument with the most powerful library available, long-lifetime rechargeable battery, and multiple standoff sampling attachments. Contact your local Metrohm distributor for more information about the IBEX Site Assessment Robot.
Metrohm AG is an internationally active producer of precision instruments for chemical analysis, in particular ion analysis, based in Herisau, Switzerland. Metrohm is the leading manufacturer of titration devices and one of the two biggest manufacturers of ion chromatography systems.