By Yves Kovalevsky
Yves Kovalevsky discusses the growing importance and potential of virtual CBRN training solutions and introduces ERTC and NBC-Sys' ViRTTER program.

Today, the word "metaverse" often refers to a marketing concept encompassing several immersive technologies such as augmented reality and virtual reality. The recent name change of the Facebook Group to Meta has brought a new focus to the conversation and reflections around this concept. Thus, projects as varied as virtual reality platforms, multiplayer video games, platforms for broadcasting shows in augmented reality or blockchain-based marketplaces, all use the term "metaverse" to characterize themselves. The following general definition will therefore be used in this article: a metaverse is an online service giving access to shared and persistent simulations of real-time 3D spaces, in which we can live immersive experiences together.
Although CBRN threats have now regained their acuity, the CBRN field nevertheless offers few real opportunities for practice. However, it is essential that authorities, e.g. NATO (cf ATP 3.8.1), know with certainty that forces placed under their command are capable of both surviving CBRN incidents and continuing operations in a CBRN environment, hence the prevailing need to put effort into training.
In order to ensure the safety of people, guarantee the success of missions, or even meet ever-increasing societal demands, it is vital that simulation tools provide a lasting response to the challenges faced by military and civilian organizations alike.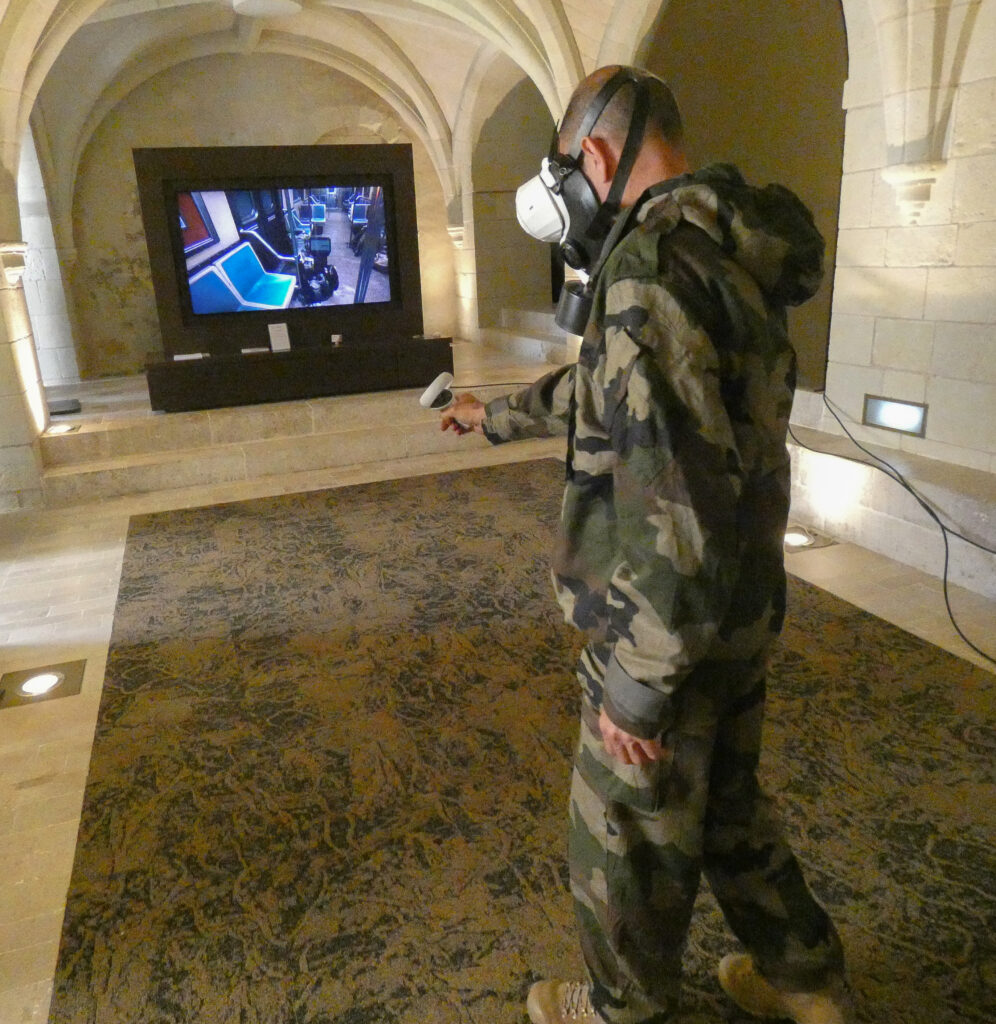 Being ready, everywhere, all the time
While CBRN threats did represent an unavoidable challenge during the Cold War, CBRN defense experienced a general disaffection from the early 1990s. A turning point took place after the attacks of September 11, 2001, followed by increased consideration of CBRN terrorist threats. However, on a strategic level, the upsurge in CBRN threats has only been a subject on the table for about ten years. The issue, which has been brought forward by more diverse stakeholders, is complex and has multiple effects.
CBRN threats encompass an entire spectrum of surprises, both technical and tactical, in a context of weakening international treaties and the decline of taboos. It is also one of the facets of hybrid strategies; we are witnessing a reduction in the thresholds for the use of weapons of mass destruction, as well as a concealment of their use, making it difficult to apportion blame. On the other hand, the effectiveness of CBRN weapons is reduced when effective and immediately available means of protection are made available to the relevant personnel, who must nevertheless be properly instructed and strictly respect the guidelines provided to them.
Faced with an event whose probability is always extremely difficult to assess, it is necessary to prepare appropriate and realistic responses. The finest possible assessment of the threat facilitates the development of the most proportionate response.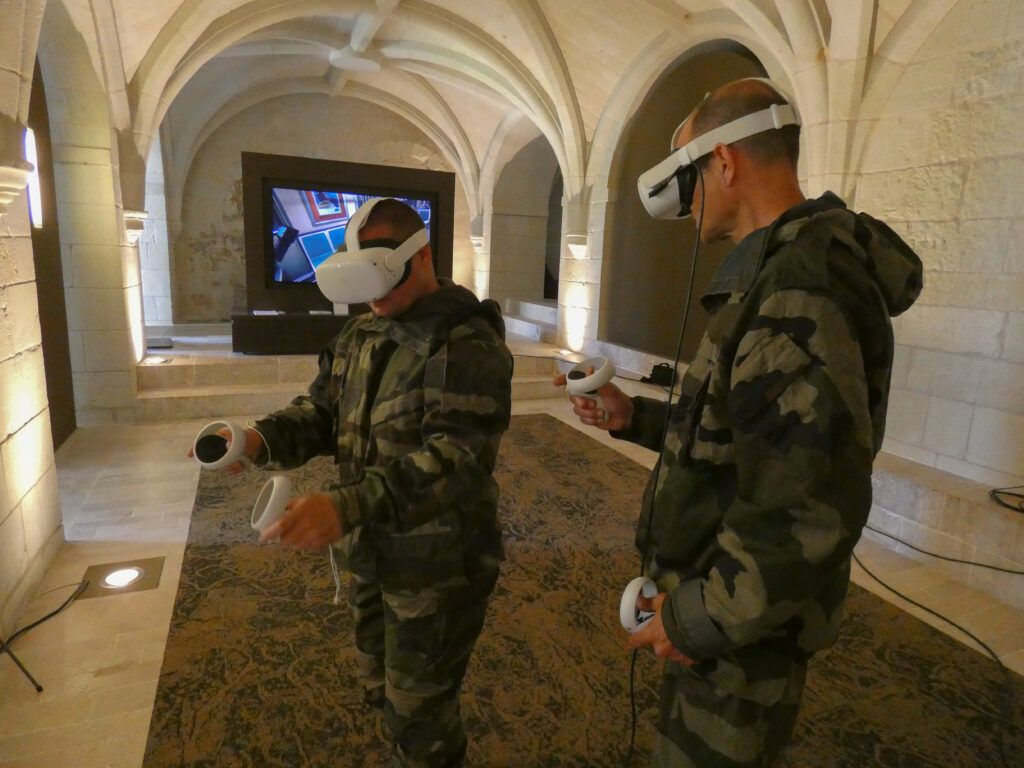 As a response to weapons whose effectiveness is ultimately based on the element of surprise, the key to success consists of having a realistic doctrine, a simple and robust organization, efficient and available equipment, and human resources in sufficient numbers, properly educated, and regularly trained. The lesson that the history of CBRN weapons teaches us is very simple: you must be ready, everywhere, all the time.
In the educational field, virtual reality immerses learners in specific environments that are useful for learning, providing a sense of serenity favorable to concentration and stress reduction. This includes environments directly linked to the content of the teaching, such as the reproduction of a historical period to allow users to have a better perception of an era, and environments allowing professional simulations as is already used for certain aspects of medicine. One should therefore consider the usefulness of employing these virtual worlds for CBRN training in basic safeguarding and operational preparation actions in contaminated environments.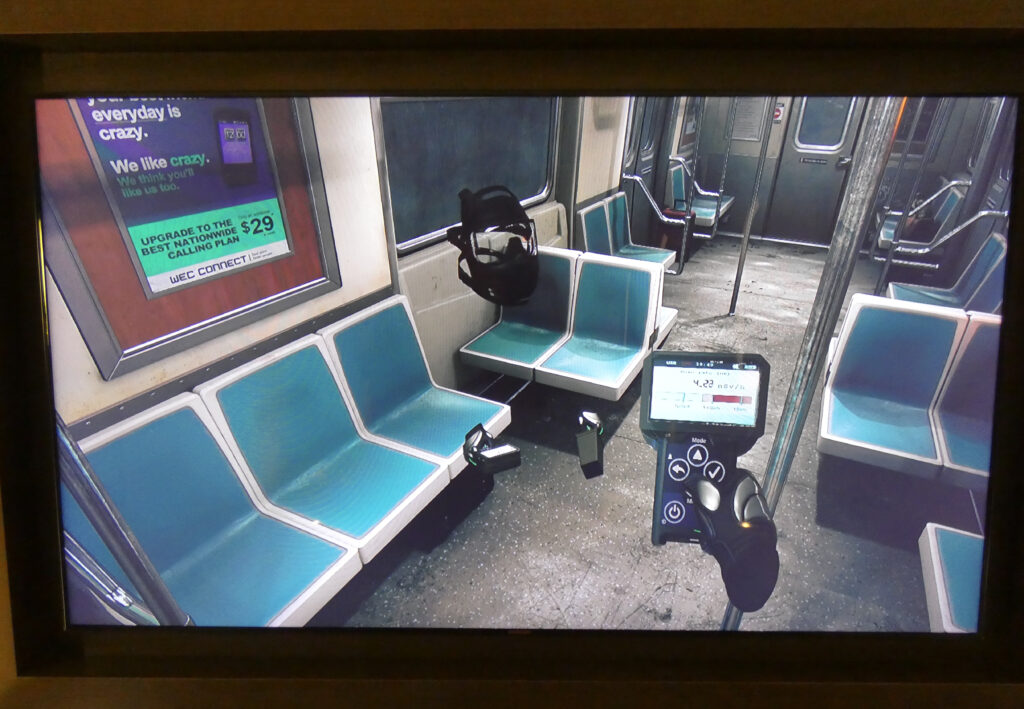 Virtual reality at the service of performance
The CBRN operational environment involves a very wide variety of stakeholders, capacities, modes of action, areas of intervention, and an often unpredictable situational evolution. Interested parties must be prepared to effectively perceive, share, and analyze these complex situations and act in perfect mastery of employment doctrines and procedures. In fact, the means of training operators must be ever more innovative. Simulation presents itself as an effective solution for unit performance thanks to training in ever more realistic critical environments, through appropriate tactical immersion.
Training involves real stakeholders, using their real means of protection, within virtual environments. Stakeholders should be simulated for the execution of critical or risky missions while controlling the costs, which would be very complex, expensive, and even dangerous to implement in reality.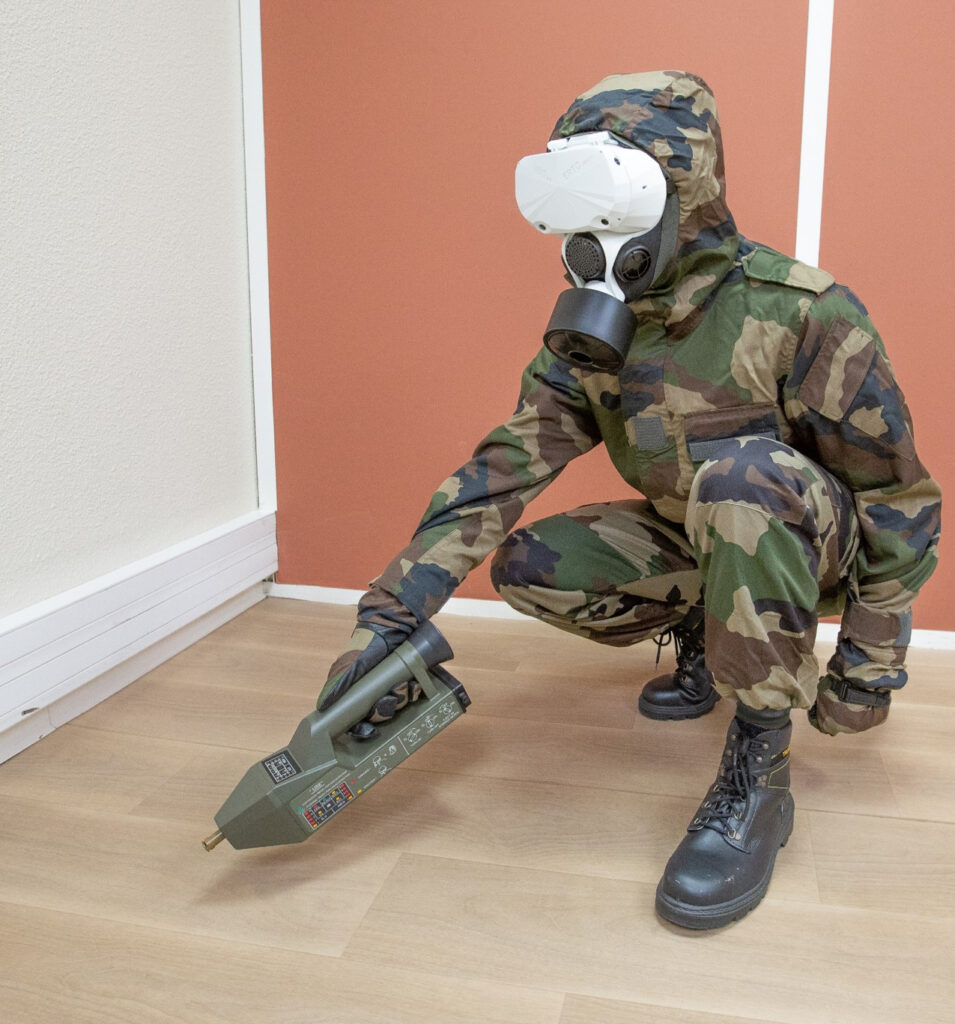 Introducing the ViRTTER program: ERTC and NBC-Sys develop user-centric solutions
As part of individual and team-level training, the ViRTTER program enables first-responders to acquire and validate skills before a real-life intervention on site. Immersed in a 3D environment (a digital twin of the intervention site), operators train to perform complex technical handling, making it possible to maintain or update acquired knowledge and guarantee quality and safety in interventions. It also makes it possible to certify their operational level before an intervention, and to assess their ability to follow the steps of a process independently. Furthermore, this training and learning simulator can be applied to CBRN personal protective equipment, thereby integrating the constraint and the induced drop in operational capacity.
The ViRTTER program provides practical learning opportunities and a better memorization rate, while ensuring a reduction in the cost of training in a secure environment with simulated danger situations. It also offers skill consolidation through unlimited, repeated training. On their control screen, trainers can follow users' movements in real time, as well as their fields of vision. Trainers can also interact with the teams at any time to give them suggestions, instructions, or orders.
As part of operational readiness, the multiplicity of random scenarios puts the teams at the heart of the action in complete safety, exposing them to all types of unexpected problems and risky situations. They are immersed in virtual environments – such as urban intervention zones – to strengthen their performance in the field by training them to manage stress and sharpening their reflexes in different contexts. The multiplicity of scenarios better trains and prepares intervention teams for real and unexpected situations on the ground. The ViRTTER program provides unlimited training possibilities, time and travel savings, and eliminates space availability constraints.
Once you have acquired a capacity simulation tool, a digital sandbox, a training system for interpreting images collected by drones, and a virtual fire simulator, all that is left is a tool adapted to CBRN defense. Today's technology allows total immersion. In a world where CBRN simulation has become a necessity for training armed forces and significantly reducing human and material resource expenditure, the use of CBRN simulation such as the ViRTTER program will allow for training in various contexts and conditions of engagement without exposing personnel to real toxic agents; a reduction in the operating costs of real systems by optimizing their potential; fewer unit movements, and educational improvements via better performance evaluation and after-action reviews.
Scan the QR code to learn more about NBC-Sys.

Yves Kovalevsky is former French Army CBRN Experts Corps and serves as operational advisor to the CEO of NBC-Sys.